If you have the fortune of being invited into the home of someone living on the continent, there is a strong possibility they will have French doors integrated into some part of their property. You will be immediately taken with the beauty of the framework and glazing, and love the double opening they supply to occupants. They're worth the investment just for the added light they bring into the house and there won't ever come a time when they fail to entice you outdoors. Any Kent home would be greatly improved with them.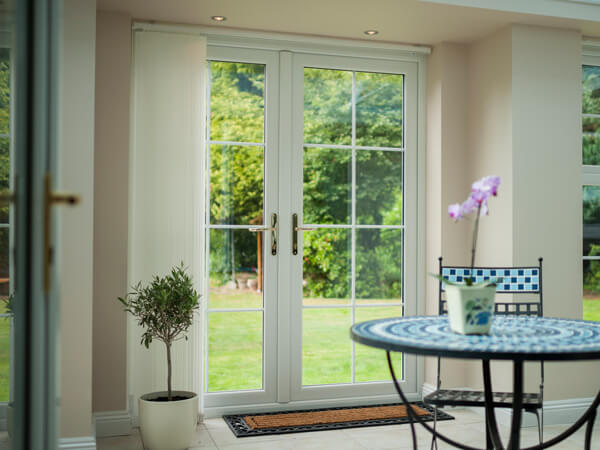 High security hinges are fitted to every French door and protectors are fitted to prevent intruders using a crowbar to gain illegal access. Locking handles come as standard to both doors and of course – our multi-point locking system is fitted standard across our entire French Door range. Maximise the light in your home by combining your new French Doors with side windows to create a stunning entrance.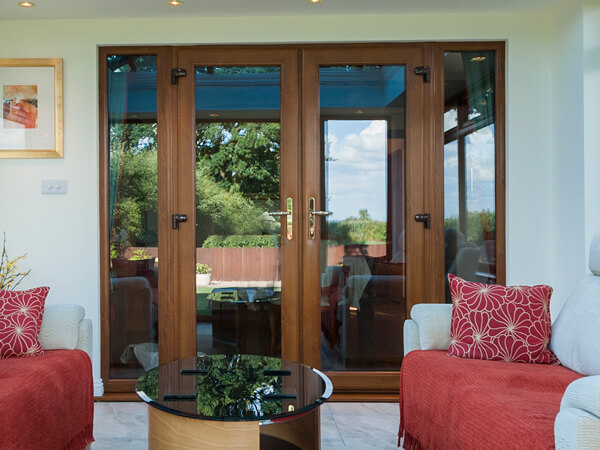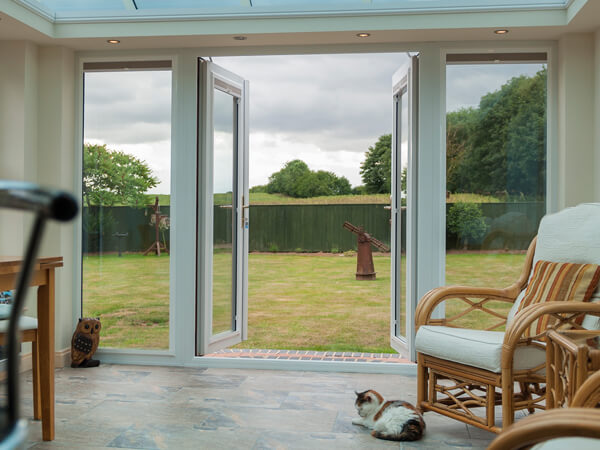 CREATE A BOLD, BEAUTIFUL OPENING
Our French doors are strong, durable, secure and will remain looking good as new for many years to come. As with all our replacement doors we have a wide range of colours and finishes to choose from, ensuring your French door fits perfectly within your Kent or South East London home.
Our Extreme UPVC French doors are a little different...
Our Extreme UPVC brand covers a vast array of products, and this includes French doors. Inexpensive to buy and amazingly easy to clean, Extreme UPVC French doors boast superb thermal qualities and will make a positive contribution to the overall insulation of your home. They will look amazing and take the heat off your heating system.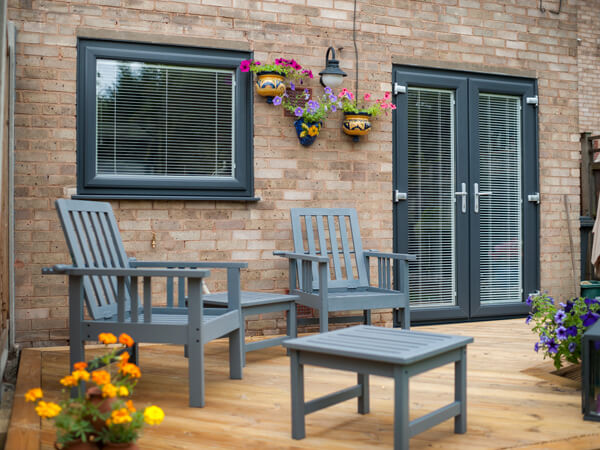 Aluminium French doors are the height of modern chic...
The slenderness of our Aluminium profile enables our range of French doors to predominantly consist of glass. The kerb appeal of your home will almost go through the roof following the installation of these doors, whether they're integrated into the back wall of the property or inside of an extension. Aluminium frames also have an intricate contour on the external side of the frame, something akin to the woodgrain effect you would see on a traditional timber door.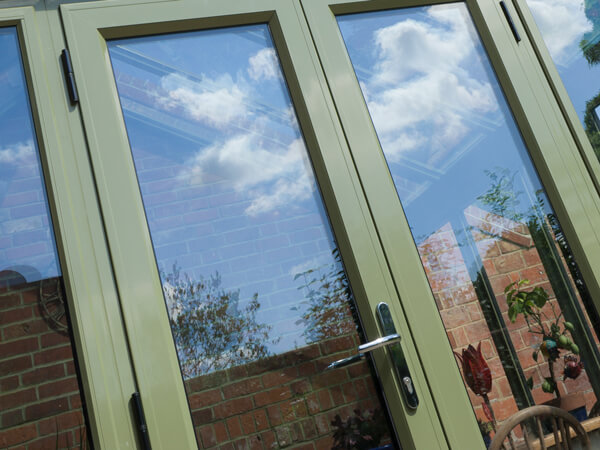 A timber door with all the benefits of modern-day engineering...
Our timber French doors combine exceptional styling and traditional timber features with modern engineering and security to provide the best timber French doors on the market today. Our French doors are made from multi-layered engineered timber sections that are resistant to warping and twisting, keeping your door functioning beautifully all year round.
All timber doors are made to measure specifically to your requirements and come in a huge number of customisable traditional and contemporary styles to suit any Kent or South East London home.
A fantastic mix of coloured finishes…
Rarely does a customer fail to find a finish that they like at Eden Windows as our colour palette is so broad and so extensive. It consists of many different shades, textures, and wood effects. White remains the overwhelming favourite with most of our customers, but people rightly expect more, and they certainly get it, with Chartwell Green being just one of an endless well of colour options. If you want a finish that's muted or 'out there', there will be a fitting solution within our palette.
Our aluminium finishes never lose their look...
Our Aluminium finishes are very distinctive and it's no surprise why! We go through 11 separate stages to create each aluminium colour, and then once they're done, we apply them with a powder-coating process. The feel of them is different to your ordinary aluminium finish for this exact same reason. We also produce aluminium woodgrain finishes in Walnut, Oak and Rosewood by using a method called sublimation. You could easily mistake them for authentic woodgrains.
Our range of timber colours will fully complement and truly enhance your French doors...
Eden offer a great range of 30 colour options including limestone, sage green, habour blue, through to granite, light oak and black and much more, creating the ultimate style statement for your timber French doors. In addition to our popular range, we can create or match any RAL colour of your choosing to totally enhance the look of your new doors.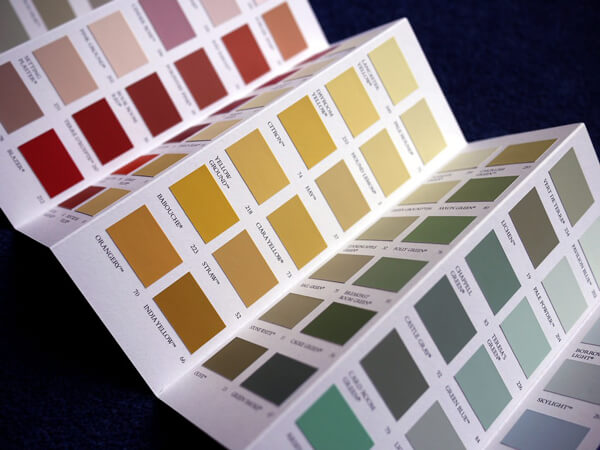 Attractive and high performing hardware is an integral part of a door...
All tastes are catered for in our extensive hardware range as we have hardware solutions that brilliantly mimic the hardware found on a traditional French door, and contemporary offerings perfect for French doors fitted at modern residences. We can even supply you with some intricately designed numbers for your new French door.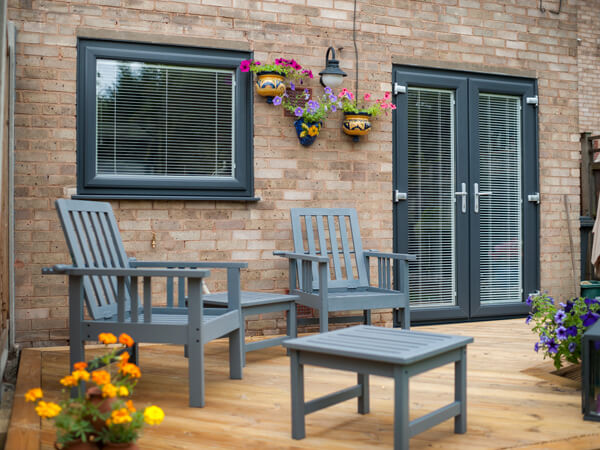 REQUEST YOUR FREE DOOR QUOTE
Simply fill in your details for your free, no obligation quotation, and click "Get Quote"
NEED MORE INSPIRATION? REQUEST A BROCHURE
Simply select the brochure(s) you would like to browse, fill in your details, and then click 'Download'.
Step 1 - Please select the brochure(s) you would like:
FINANCING YOUR PURCHASE
Eden, believes that you shouldn't have to pinch your pockets to be able to purchase our products. You can pay in affordable monthly instalments to better suit your needs and budget.
FIND OUT MORE
FINANCING YOUR PURCHASE
Eden, believes that you shouldn't have to pinch your pockets to be able to purchase our products. You can pay in affordable monthly instalments to better suit your needs and budget.
FIND OUT MORE
Want to speak with an Advisor? Give us a call on 01634 840999
Our friendly team will be pleased to help with any questions you may have.